WHERE IS ALL THE THOR/LOKI???????????????
If you arrived at your front door and saw your first love standing there, what would you do or say?
Wow, you're visiting my roommate a lot these days.


So I guess to "repent" for my guilt, every time I thought he was sending a weird signal to me, I just brushed it off. By weird signals, I mean things like when he said I was hot (do guys with g/f's say that to other girls?); or when he brought me some of his dinner for me to eat and I was like noooo, but he was like, 'I wouldn't bring it for you if I didn't want you to eat it'; or when he invited me to his place to drink some soup at like midnight (albeit, he did later invite his g/f over, which threw me off). So every time he did something like this, I would just say 'thanks' really obnoxiously to act like it didn't mean much to me, when in fact, I was just soaking it up and loving it.

Argh, I am such a girl. And it's just so weird, because if you knew me for real, you'd say I was one of the un-girliest girls you'll ever know. It goes to show that no matter how aggressive or in control I want to be on the outside, I'm still just an emotional woman on the inside.
So I really like this one dude, but I'm afraid he doesn't like me. (That's just always my story. No guy has ever liked me in that way.) So this time, I started liking him despite the fact that he had a girlfriend. I felt really guilty every time I was with him; I just wanted to get closer to him, to get to know him better, and I told myself that I wasn't trying to get in his good graces to steal him away. But inwardly, I really think I was trying to separate him from his g/f, even though she seemed sweet and everything. I had no reason to dislike her, other than the fact that she was dating the guy I liked.
My CNS tells me I'm feeling:

annoyed
This one
gets me every time. And KHR mixed with Oofuri is
ftw
!!!
Anyway, art tiem.
Fandom:
Katekyo Hitman Reborn!
Characters:
Hibari Kyouya, TYL Yamamoto Takeshi
Rating:
PG-13
Warnings:
NSFW because Yamamoto's torso is exposed.
PREVIEW
(
Waaweirhwlierh.
Collapse
)
Thanks for looking! And constructive criticism is GREATLY appreciated!
So yeah, I sorta got into KHR. Keyword: sorta. I tried watching KHR again, but didn't really like it. It was too boring. ... But I really loveLoveLOVE NITRO-Koutetsu's 8018 dj's, so I guess I'm fandoming that. XDDDDDD Gah, her art is so drool-worthy. :3 But I really love the crack videos that are associated with KHR.
My CNS tells me I'm feeling:

mischievous

I'm listening to:

"Runaway" - Cascada (8018 Youtube Vid)


Well I picked it back up about two months ago, and now I can't stop. I just finished 300+ chapters of Naruto in two days. ... (I skipped over the corresponding anime episodes I'd seen, so I didn't finish the full 447 chapters in two days, but dayum, I came pretty close.) And wow, I'm just like awleihralwiehralwiher over it. Lmao. So yeah. XD

And yay for the fic. Naruto fandom = HUGE! Which = yessssssss for me. So many NaruSasu fics to read. But so little tiem. *le sigh* Oh well...
Hahaha, so I finally got into Naruto for good. I tried watching it 3 years ago, but then it got boring for me. I totally loved the Zabuza and Haku Arc (whatever that's really called), and I remember being like, OH, so THAT'S why everyone's so into Naruto ... with an action-packed, tear-jerker of an opening like that, of COURSE people are gonna watch it. But then I couldn't take the following Genin Arc(?), so I stopped at episode 32.
My CNS tells me I'm feeling:

lazy

I'm listening to:

"Good Luck" - Basement Jaxx
Anyway, preview tiem: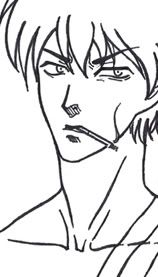 &nbsp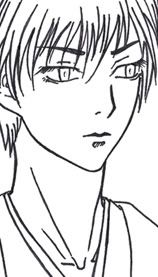 (
So yeah ... Okita looks really scary ... BUT THAT'S IN CHARACTER, RIGHT?!?
Collapse
)
Hijikata's like wtf in the pic. And Okita's pupils are extra evil!! :D
Lolztastic. I hate inking. I always screw up the inked versions; they always lack emotion (maybe?) that the pencil versions have. Blaaaaaaaah.
My CNS tells me I'm feeling:

chipper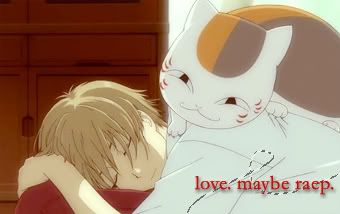 HAVE I CONVINCED YOU OF THEIR LOVE?!?!!?! AHHAHAHAHAHAHAHA!
And yaaaaaaaaay, episode 4 of Natsume Yuujinchou was released!! Wo00000000000t!!!
Yeeeeeeeah, I can't help myself. THEY'RE TOO CUTE!!! And this pairing is crack. It's all made up in my mind, lmao. XDDDDDDDDDDDDD
My CNS tells me I'm feeling:

cracky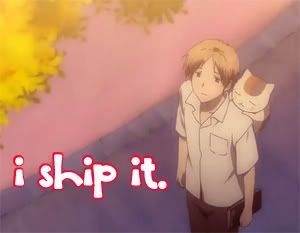 ....YEAH. AHAHAHA. I THINK I ACTUALLY MIGHT. SERIOUSLY. I KNOW. LMAO.
I BLAME THIS ALL ON YOU. I CAN'T STOP LOVING THIS SHOW. PLUS...
My CNS tells me I'm feeling:

lolztastic
Ganked from
florentinefed
's journal.
I forgot to post this like two days ago. :D
If you read this, if your eyes are passing over this right now, even if we don't speak often, please post a comment with a memory of you and me. It can be anything you want -- good or bad. When you're finished, post this little paragraph on your blog and be surprised (or mortified) about what people remember about you. Or, if you don't want to post it, but want a memory from me, say so at the end of your comment and I'll reply with one. But consider posting. It's fun to see what comes up.
My CNS tells me I'm feeling:

amused

I'm listening to:

Chop Me Up - Justin Timberlake